News About the Barr Center
Surprising Benefits for Health & Wellness! If you wake up one morning after partying too hard the night before, wishing you hadn't. Or if you have a terrible migraine that simply won't go away, you might be thinking about 10 different ways to cure a headache and a hangover. One ...
Experiencing Pain?
Reach Out To Us About Opiate-Free Treatment.
"I had terrible neck and arm pain. An epidural steroid injection was performed.

I could tell that the injection was in the right spot.

The pain was gone immediately.

I am finally back playing softball."

Patient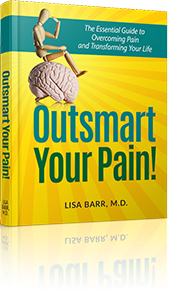 Outsmart Your Pain!

by Lisa Barr, M.D.
The Essential Guide to Overcoming Pain and Transforming Your Life.
Learn how to kick the pain habit and master your pain from a pain management doctor.
International Best-Selling Author
Featured In National News