At the Barr Center, our approach to neck pain relief begins and ends with our patients.
Neck pain is one of the most common major musculoskeletal disorders for adults. Our necks are designed to hold our heads up straight and move our heads to see the world around us. The neck muscles and ligaments must be strong enough to support the weight of the head and the joints supple enough to allow movement in all directions. It's estimated that neck pain affects up to 20 percent of the population and studies show that neck pain impacts all aspects of our lives, affecting a person's physical, social, and mental well being.
Neck pain can be caused by a number of factors, including ergonomic (strenuous physical activity, use of force and vibration, inadequate posture, repetitive movement), individual (age, body mass index, genome, musculoskeletal pain history), behavioral (smoking and level of physical activity), and psychosocial (job satisfaction, stress level, anxiety, and depression) factors.
Neck Pain Relief and Diagnosis
Neck pain often develops from muscle imbalances, trigger points, muscle tension and poor posture.  Poor ergonomics at your desk or looking down for prolonged periods at your cell phone or tablet can cause muscle strain and neck pain, as well.  Chronic stress often manifests itself as neck pain and poor breathing patterns can cause excessive activation of the neck muscles, which are by design only accessory breathing muscles.  Pain may arise from the neck itself or from any of the many surrounding muscles, ligaments or tendons. Neck pain can also be caused by the natural process of aging. This process can lead to degeneration of the discs and joints of the neck.
To diagnose the cause of your neck pain, it is important for your clinician to understand the history of your symptoms. A Barr Center physician will review with you:
The location, intensity, duration, and radiation of the pain


Any past injury to the neck

Positions or motions that aggravate and/or relieve the pain

Range of motion and posture

Palpation to assess any tenderness

Assessment of the nervous system
Further testing of undiagnosed neck pain can include:
X-ray evaluation

CT scan, bone scan

MRI

Myelogram

Electromyography (EMG) and nerve conduction velocity test (NCV)
Most neck pain will improve within a few weeks without medical intervention. Pain relievers, moist heat and/or ice may be all that you need to improve your pain. Cervical collars are not typically recommended, as they may weaken muscles. Excessive use of pain relievers may also not be in your best interest, as inflammation is part of the healing process.
If home treatments are not working for you, your doctor may suggest stronger medications or other therapy. It should be noted that the focus of treatment at The Barr Center is on restoring function and management without reliance on medications. Your treatment for neck pain will be determined based on your symptoms and treatment history and may include any of the following:
Medications

Acute pain
Analgesics

Muscle relaxers

Chronic Pain

Antidepressant medications. Low doses of antidepressant medications have been found to have a positive effect on pain. The use of these medications is for pain medication, not depression.

Narcotics (opioids). These medications, such as codeine or hydrocodone, may be used for a short period of time with close supervision by your doctor.

Topical Creams

Pain patches
Modalities to reduce pain, such as moist heat, dry needling, myofascial release, ultrasound, electrical stimulation, deep tissue massage, and traction

Manual techniques to release trigger points and restore muscle balance

Strengthening, stabilization and flexibility exercises to restore function and strength

Education to prevent further injury or recurrence of pain

Procedures to Reduce Pain

Electrical stimulation

TENS (Transcutaneous Electrical Nerve Stimulation)

Home muscle stimulation units

Epidural steroid injections

Autologous platelet-rich plasma injections

Sympathetic blocks

Radiofrequency denervation

Neurotoxin injections

Surgery

Laminectomy or foraminotomy
These procedures open up the spinal canal or intervertebral space and reduce pressure on the spinal cord or nerves. They can decrease and/or relieve extremity pain caused by bone spurs or disk fragments or calcified ligaments.
Fusion
This surgery involves completely removing one or more intervertebral discs and joining two or more vertebrae (fusion surgery)
Discectomy
This is a surgical procedure in which a segment of the intervertebral disc that is causing pressure on a spinal nerve is removed.
Conditions We Treat:
Myofascial Pain

Cervical dystonia/Spasmodic Torticollis

Arthritis of the Neck

Whiplash Injuries

Instability Due to Trauma or Hypermobility Syndromes

Occipital Headaches/ Occipital Neuritis

Tension Headaches

Fibromyalgia
Treatments we perform:
Trigger point injections

Dry needling

Botox injections

Cervical facet injections

Cervical Epidural Steroid Injections
Can the Barr Center Help You with Neck Pain Relief?
Call us at 757-578-2260 or email us at [email protected] to get started on relieving your neck pain. To learn more about the anatomy of the neck and the causes of neck pain, visit our blog articles for more information.
Learn More
Other pain management conditions we treat are: Shoulder Pain, Back Pain,  Hip Pain and Knee Pain.  We often use Regenerative Medicine and Physical Therapy in our treatments.
Experiencing Pain?
Reach Out To Us About Medication-Free Treatment.
"I had terrible neck and arm pain. An epidural steroid injection was performed.

I could tell that the injection was in the right spot.

The pain was gone immediately.

I am finally back playing softball."

Patient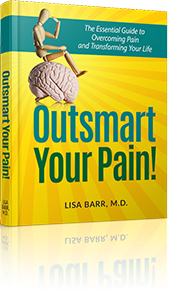 Outsmart Your Pain!

by Lisa Barr, M.D.
The Essential Guide to Overcoming Pain and Transforming Your Life.
Learn how to kick the pain habit and master your pain from a pain management doctor.
International Best-Selling Author
Featured In National News